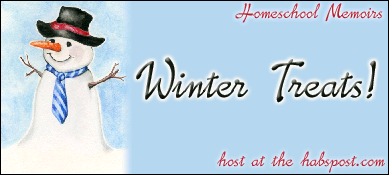 THEME
This week I want to invite you to share one of your favourite winter treats. A treat you look forward to making when the snow falls and include the recipe for it so others can try it out.
When you add your link to the linky you're welcome to put in what you posted. For example: Miss Jocelyn -Eggnog
My theme:
My favorite winter treat is easy....it's a Mocha or Stash's white Christmas tea. Yummy!
The mochas I make are super easy. Just brew yourself a good cup of coffee. Then you add one packet of hot cocoa mix (homemade or store bought) to your cup and add coffee. That's it! I usually add some milk and if we have it, whipped cream to top it off. Can't get much better then that. But if you prefer tea,
White Christmas Tea
is my favorite hot tea.